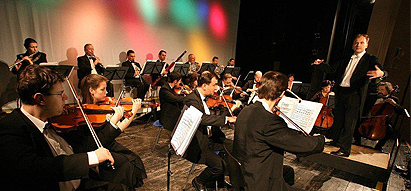 Informations for Organizers
You have the possibility to select a program for a performance in your town. If it is possible to find a date which is not occupied by a concert already fixed, we would very much like to perform in your town.
Concerning the program you may have a look at our performed concerts till now (concerts since January 1st , 2001) as well as from our repertoire. Also you can contact me non-obligatory and it will be a pleasure for me to help you.
When you look into our performance calendar, you will find out, which dates are already fixed. So, therefore, if you see any chance it would be much better to make your choice as soon as possible. It will then be easier to find an individual program for you.
You intend to order a concert, but would first like to make sure, that you like the quality of the Hungarian Philharmonic Chamber Orchestra ? Of course I can send you some sound recordings as well as videos also from our performances.
When you compare our honorarium with other offers, you will be surprised (it costs much less than you think…).
Free dates
There are always some days on a tour, when we have no performance but are bound geographically. If you have to arrange a concert within short time (for instance special performances), then probably these free dates may also be financial interesting for you.
In this case please contact me by e-mail.